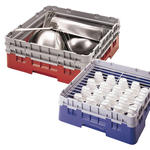 Cup camracks have a notch at the bottom of each compartment to tilt the cups, so they don't accumulate water at their base during washing.
Choose the right basket of nipples for washing dishes, trays, pans, and varied utensils. Use the closed basket system to store and transport the cutlery. Use CAMBRO's rotation baskets to support your washing operations.
Choose the right base basket and add the extensions your parts require.
| # | | Code | Description | U/E | Unit Price |
| --- | --- | --- | --- | --- | --- |
| 0 | | 20 Comp. Full Size Cup Camrack® 20C258 | 20 Comp. Full Size Cup Camrack® | 1 | 32.00 EUR |
| 1 | | 20 Comp. Full Size Cup Camrack® 20C414 | 20 Comp. Full Size Cup Camrack® | 1 | 46.50 EUR |
| 2 | | 16 Comp. Full Size Cup Camrack® 16C258 | 16 Comp. Full Size Cup Camrack® | 1 | 32.00 EUR |
| 3 | | 16 Comp. Full Size Cup Camrack® 16C414 | 16 Comp. Full Size Cup Camrack® | 1 | 44.20 EUR |
| 4 | | 16 Comp. Full Size Cup Camrack® 16C578 | 16 Comp. Full Size Cup Camrack® | 1 | 60.40 EUR |
| 5 | | 10 Comp. Half Size Cup Camrack® 10HC258 | 10 Comp. Half Size Cup Camrack® | 1 | 29.00 EUR |
| 6 | | 10 Comp. Half Size Cup Camrack® 10HC414 | 10 Comp. Half Size Cup Camrack® | 1 | 39.40 EUR |
| 7 | | Camrack® 9X9 Peg Rack PR314 | Camrack® 9X9 Peg Rack | 1 | 32.00 EUR |
| 8 | | Camrack® 9X9 Peg Rack 1 Ext. PR500 | Camrack® 9X9 Peg Rack 1 Ext. | 1 | 44.00 EUR |
| 9 | | Camrack® 5X9 Peg Rack PR59314 | Camrack® 5X9 Peg Rack | 1 | 32.00 EUR |
| 10 | | Camrack® 5X9 Peg Rack 1 Ext. PR59500 | Camrack® 5X9 Peg Rack 1 Ext. | 1 | 44.00 EUR |
| 11 | | Camrack® Open End Tray OETR314 | Camrack® Open End Tray | 1 | 32.00 EUR |
| 12 | | Camrack® Flatware Full FR258 | Camrack® Flatware Full | 1 | 32.00 EUR |
| 13 | | 1/2 Camrack® Flatware Half Size HFR258 | 1/2 Camrack® Flatware Half Size | 1 | 29.00 EUR |
| 14 | | 1/2 Camrack® 8 comp. Flatware Basket w/handle 8FB434 | 1/2 Camrack® 8 comp. Flatware Basket w/handle | 1 | 40.00 EUR |
| 15 | | 1/2 Camrack® 8 comp. Flatware Basket without handle 8FBNH434 | 1/2 Camrack® 8 comp. Flatware Basket without handle | 1 | 40.00 EUR |
| 16 | | Camrack® for cutlery BR712CUB | Camrack® for cutlery | 1 | 134.50 EUR |
| 17 | | Camrack® for cutlery BR918CUB | Camrack® for cutlery | 1 | 152.00 EUR |
| 18 | | Camrack® for cutlery BR1034CUB | Camrack® for cutlery | 1 | 164.00 EUR |
| 19 | | Full cover Camrack DRC2020 | Full cover Camrack | 1 | 30.00 EUR |
| 20 | | Camdolly® For Camracks® CDR2020 | Camdolly® For Camracks® - 54 x 54 x 20 cm | 1 | 135.00 EUR |
| 21 | | Camdolly® For Camracks® w/handle CDR2020H | Camdolly® For Camracks® w/handle - 59 x 54 x 94 cm | 1 | 316.00 EUR |
| 22 | | Camrack® Base Full BR258 | Camrack® Base Full | 1 | 25.00 EUR |
| 23 | | Camrack® Base Full/1 Ext. BR414 | Camrack® Base Full/1 Ext. | 1 | 37.00 EUR |
| 24 | | Camrack® Base Full/2 Ext. BR578 | Camrack® Base Full/2 Ext. | 1 | 49.00 EUR |
| 25 | | Camrack® Base Full/3 Ext. BR712 | Camrack® Base Full/3 Ext. | 1 | 61.00 EUR |
| 26 | | PlateSafe Hold Down Grid CRPHDG2878 | PlateSafe Hold Down Grid | 1 | 25.90 EUR |
| 27 | | Camrack® Base Half HBR258 | Camrack® Base Half | 1 | 21.00 EUR |
| 28 | | Camrack® Base Half/1 Ext. HBR414 | Camrack® Base Half/1 Ext. | 1 | 33.40 EUR |
| 29 | | Camrack® Base Half/2 Ext. HBR578 | Camrack® Base Half/2 Ext. | 1 | 42.90 EUR |
| 30 | | Camrack® Base Half/3 Ext. HBR712 | Camrack® Base Half/3 Ext. | 1 | 52.80 EUR |
| 31 | | Glass Keeper GK2000 | Glass Keeper | 12 | 19.45 EUR |
| 32 | | Cup Keeper KK1200 | Cup Keeper | 12 | 18.25 EUR |
| 33 | | 16 Comp. Full Size Cup Camrack® 16C258 | 16 Comp. Full Size Cup Camrack® | 1 | 32.00 EUR |
| 34 | | 20 Comp. Full Size Cup Camrack® 20C258 | 20 Comp. Full Size Cup Camrack® | 1 | 32.00 EUR |
| 35 | | 8 Comp. Half Size Cup Camrack® 8HC258 | 8 Comp. Half Size Cup Camrack® | 1 | 29.00 EUR |
| 36 | | 10 Comp. Half Size Cup Camrack® 10HC258 | 10 Comp. Half Size Cup Camrack® | 1 | 29.00 EUR |
| 37 | | Full size open extender E3 | Full size open extender - 50 x 50 x 5,1 cm | 1 | 12.00 EUR |
| 38 | | Half size open extender HE3 | Half size open extender - 50,2 x 25,2 x 5,1 cm | 1 | 9.75 EUR |
| 39 | | Full size 9-compartment full drop extender 9E1 | Full size 9-compartment full drop extender - 50 x 50 x 5,1 cm | 1 | 16.50 EUR |
| 40 | | Full size 16-compartment full drop extender 16E1 | Full size 16-compartment full drop extender - 50 x 50 x 5,1 cm | 1 | 13.00 EUR |
| 41 | | Full size 20-compartment full drop extender 20GE1 | Full size 20-compartment full drop extender - 50 x 50 x 5,1 cm | 1 | 17.00 EUR |
| 42 | | Full size 25-compartment full drop extender 25E1 | Full size 25-compartment full drop extender - 50 x 50 x 5,1 cm | 1 | 13.00 EUR |
| 43 | | Full size 30-compartment full drop extender 30GE1 | Full size 30-compartment full drop extender - 50 x 50 x 5,1 cm | 1 | 17.00 EUR |
| 44 | | Full size 36-compartment full drop extender 36E1 | Full size 36-compartment full drop extender - 50 x 50 x 5,1 cm | 1 | 13.25 EUR |
| 45 | | Full size 49-compartment full drop extender 49E1 | Full size 49-compartment full drop extender - 50 x 50 x 5,1 cm | 1 | 17.50 EUR |
| 46 | | Full size 9-compartment half drop extender 9E2 | Full size 9-compartment half drop extender - 50 x 50 x 5,1 cm | 1 | 16.50 EUR |
| 47 | | Full size 16-compartment half drop extender 16E2 | Full size 16-compartment half drop extender - 50 x 50 x 5,1 cm | 1 | 12.20 EUR |
| 48 | | Full size 20-compartment half drop extender 20E2 | Full size 20-compartment half drop extender - 50 x 50 x 5,1 cm | 1 | 14.50 EUR |
| 49 | | Full size 20-compartment half drop extender 20GE2 | Full size 20-compartment half drop extender - 50 x 50 x 5,1 cm | 1 | 16.50 EUR |
| 50 | | Full size 25-compartment half drop extender 25E2 | Full size 25-compartment half drop extender - 50 x 50 x 5,1 cm | 1 | 12.40 EUR |
| 51 | | Full size 30-compartment half drop extender 30GE2 | Full size 30-compartment half drop extender - 50 x 50 x 5,1 cm | 1 | 16.50 EUR |
| 52 | | Full size 36-compartment half drop extender 36E2 | Full size 36-compartment half drop extender - 50 x 50 x 5,1 cm | 1 | 13.25 EUR |
| 53 | | Full size 49-compartment half drop extender 49E2 | Full size 49-compartment half drop extender - 50 x 50 x 5,1 cm | 1 | 17.00 EUR |
| 54 | | Full size 16-compartment full drop extender 16E4 | Full size 16-compartment full drop extender - 50 x 50 x 5,1 cm | 1 | 16.20 EUR |
| 55 | | Full size 25-compartment full drop extender 25E4 | Full size 25-compartment full drop extender - 50 x 50 x 5,1 cm | 1 | 16.20 EUR |
| 56 | | Full size 36-compartment full drop extender 36E4 | Full size 36-compartment full drop extender - 50 x 50 x 5,1 cm | 1 | 16.00 EUR |
| 57 | | Full size 16-compartment half drop extender 16E5 | Full size 16-compartment half drop extender - 50 x 50 x 5,1 cm | 1 | 16.00 EUR |
| 58 | | Full size 25-compartment half drop extender 25E5 | Full size 25-compartment half drop extender - 50 x 50 x 5,1 cm | 1 | 16.00 EUR |
| 59 | | Full size 36-compartment half drop extender 36E5 | Full size 36-compartment half drop extender - 50 x 50 x 5,1 cm | 1 | 16.00 EUR |
| 60 | | Half size 8-compartment full drop extender 8HE1 | Half size 8-compartment full drop extender - 50,2 x 25,2 x 5,1 cm | 1 | 12.20 EUR |
| 61 | | Half size 10-compartment full drop extender 10HE1 | Half size 10-compartment full drop extender - 50,2 x 25,2 x 5,1 cm | 1 | 12.20 EUR |
| 62 | | Half size 17-compartment full drop extender 17HE1 | Half size 17-compartment full drop extender - 50,2 x 25,2 x 5,1 cm | 1 | 12.70 EUR |
| 63 | | Half size 8-compartment half drop extender 8HE2 | Half size 8-compartment half drop extender - 50,2 x 25,2 x 5,1 cm | 1 | 10.80 EUR |
| 64 | | Half size 10-compartment half drop extender 10HE2 | Half size 10-compartment half drop extender - 50,2 x 25,2 x 5,1 cm | 1 | 11.40 EUR |
| 65 | | Half size 17-compartment half drop extender 17HE2 | Half size 17-compartment half drop extender - 50,2 x 25,2 x 5,1 cm | 1 | 12.20 EUR |
| 66 | | Full size 20-compartment full drop extender 20GE5 | Full size 20-compartment full drop extender - 50 x 50 x 5,1 cm | 1 | 21.00 EUR |
| 67 | | Full size 20-compartment full drop extender 20GE4 | Full size 20-compartment full drop extender - 50 x 50 x 5,1 cm | 1 | 23.00 EUR |