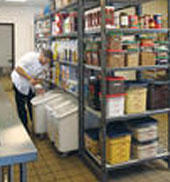 When storing food and prepared food in the kitchen, count on the global specialist in this field such as Cambro. Shelves, containers, carts and identification labels, the solutions offered by Cambro only for professionals, are highly valued by the hospitality industry.
• When receiving raw materials, transfer it from supplier's packaging to your own clean containers. It will avoid risks of contamination caused during transport.
• Storage containers should be hygienic, resistant to breakage and low temperatures and, as far as possible, transparent to facilitate the identification of the content.
• The cold room shelves must be absolutely stainless, sturdy, and easy to clean. It is convenient that the last shelves will be separated a few centimetres from the floor so that can be cleaned under it.
• Set up shelves, so larger, heavier containers are placed on the lower shelves and smaller containers with less use are split into the upper shelves. The shelves of the cold rooms must be vented shelves to allow the circulation of air through the chamber, while the shelves of the non-perishable store be solid shelves.
• All storage containers must have their own lid to avoid contamination.
Request Cambro's "Store-Safe" guide that contains many proposals and recommendations to store your kitchen's food safely and efficiently.
---