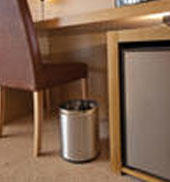 Waste management is a very important area in hospitality industry. Working with the right material will get the clean and hygienic image you want and also to manage in a practical, comfortable, and sustainable way the waste of your business.
PROBBAX offers you a comprehensive solution to waste management both inside and outside your facility:
• For the outside it has a range of ashtrays with different solutions such as smoking stations or compact wall ashtrays.
• It offers you a wide variety of indoor bins to use anywhere in your business, and a variety of rubbish and recycling bins that give you the ideal solution to work comfortably inside your kitchens and be responsible for the environment at the same time.
• It has pavement cleaning equipment and sanitary equipment for the toilet.
---