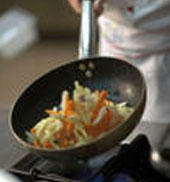 The chef's small presents: we present three collections of small pots and pans that break with the traditional way of presenting dishes, offering you a new way to serve your culinary creations. To and serve in a highly attractive way individual portion.
The chef's tools: each chef has his own art, each region his tradition and every stove his speciality, but when working in the kitchen, it is essential to have equipment that loves time and money and that facilitates the work of the most important of a hotel installation. AGNELLI has been working for food aluminium for more than 100 years, which has been proven, by price and efficacy, to be the most efficient element for cooking. Here you will find a selection of the most AGNELLI equipment along with TABLECRAFT kitchen accessories.
The chef's oven: one of the most important devices for the chef is the oven. The art of being used lies in selecting the pieces to, use in shape, size, type of material and type of food to cook. Below you will find a selection of high-quality parts and accessories such as CAMBRO's high-temperature GN pans, AGNELLI stainless steel and aluminium containers, or TUCKER's fireproof and steam-resistant gloves. Enjoying the kitchen will be easier and safer than ever.
---