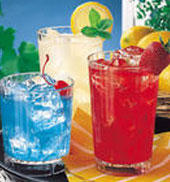 Thanks to the evolution in manufacturing and design of crockery and glassware, it is possible to have elegant presentation pieces using the toughest and safest materials. Choose the material that best suits your needs under the following options:
Polycarbonate crockery: Offers maximum strength and warranty. Ideal for environment where safety is essential: nursery and children's colleges, residence for the elderly, prisons, hospitals, etc.
Melamine crockery: As elegant and showy as any piece of porcelain, but with high strength and very light. Suitable for places where a resistant crockery is needed (schools, residences, family restaurants and businesses with a lot of movement – self-service, business canteens, shopping centre dining areas, etc.)
Polycarbonate glassware: Maximum safety, warranty, and resistance. Essential in schools, residences and in pool areas of hotels and restaurants.
Acrylic glassware (SAN): Maximum safety and high strength. It is an economical alternative to polycarbonate, maintaining its safety qualities at all times.
---