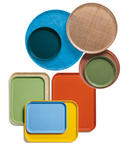 CAMBRO was the inventor, more than 55 years ago, of the Camtray, the authentic fibreglass tray that enjoys a 5 year guarantee, although there are examples of durability of more than 40 years!
Without a doubt, the best tray on the market.
It can be customized and there are many colors to choose from.
| # | | Code | Description | U/E | Unit Price |
| --- | --- | --- | --- | --- | --- |
| 0 | | Rectangular Camtray - High profile 915 Group I | Rectangular Camtray - High profile - 22 x 38 cm Group I | 12 | 24.77 EUR |
| 1 | | Rectangular Camtray - High profile 926 Group I | Rectangular Camtray - High profile - 22,5 x 65 cm Group I | 12 | 32.41 EUR |
| 2 | | Rectangular Camtray - High profile 1014 Group I | Rectangular Camtray - High profile - 27 x 35 cm Group I | 12 | 23.09 EUR |
| 3 | | Rectangular Camtray - High profile 1015 Group I | Rectangular Camtray - High profile - 26 x 38 cm Group I | 24 | 23.66 EUR |
| 4 | | Insert Camtray - High profile 1116 Group I | Insert Camtray - High profile - 27,5 x 40,5 cm Group I | 24 | 24.82 EUR |
| 5 | | Rectangular Camtray - High profile 1216 Group I | Rectangular Camtray - High profile - 30,5 x 41,5 cm Group I | 12 | 26.64 EUR |
| 6 | | Rectangular Camtray - High profile 3242 Group I | Rectangular Camtray - High profile - 31,9 x 41,9 cm Group I | 12 | 27.12 EUR |
| 7 | | Rectangular Camtray - High profile 1313 Group I | Rectangular Camtray - High profile - 33 x 33 cm Group I | 12 | 23.66 EUR |
| 8 | | Rectangular Camtray - High profile 1318 Group I | Rectangular Camtray - High profile - 32 x 45 cm Group I | 12 | 32.88 EUR |
| 9 | | Rectangular Camtray - High profile 1418 Group I | Rectangular Camtray - High profile - 35,5 x 45,7 cm Group I | 12 | 31.58 EUR |
| 10 | | Rectangular Camtray - High profile 3853 Group I | Rectangular Camtray - High profile - 37,5 x 53 cm Group I | 12 | 37.78 EUR |
| 11 | | Rectangular Camtray - High profile 1520 Group I | Rectangular Camtray - High profile - 38 x 51,5 cm Group I | 12 | 38.35 EUR |
| 12 | | Rectangular Camtray - High profile 1622 Group I | Rectangular Camtray - High profile - 40,5 x 56 cm Group I | 12 | 44.11 EUR |
| 13 | | Rectangular Camtray - High profile 16225 Group I | Rectangular Camtray - High profile - 42 x 57 cm Group I | 12 | 48.34 EUR |
| 14 | | Rectangular Camtray - High profile 1826 Group I | Rectangular Camtray - High profile - 45,5 x 65,5 cm Group I | 6 | 58.85 EUR |
| 15 | | Rectangular Camtray - Low profile 46 Group I | Rectangular Camtray - Low profile - 11 x 15 cm Group I | 12 | 7.44 EUR |
| 16 | | Rectangular Camtray - Low profile 57 Group I | Rectangular Camtray - Low profile - 12,5 x 18 cm Group I | 12 | 7.92 EUR |
| 17 | | Rectangular Camtray - Low profile 810 Group I | Rectangular Camtray - Low profile - 20,5 x 25 cm Group I | 12 | 17.42 EUR |
| 18 | | Rectangular Camtray - Low profile 2632 Group I | Rectangular Camtray - Low profile - 26,5 x 32,5 cm Group I | 12 | 22.37 EUR |
| 19 | | Rectangular Camtray - Low profile 3046 Group I | Rectangular Camtray - Low profile - 30 x 46 cm Group I | 12 | 28.27 EUR |
| 20 | | Rectangular Camtray - Low profile 3253 Group I | Rectangular Camtray - Low profile - 32,5 x 53 cm Group I | 12 | 33.41 EUR |
| 21 | | Rectangular Camtray - Low profile 3343 Group I | Rectangular Camtray - Low profile - 33 x 43 cm Group I | 12 | 28.32 EUR |
| 22 | | Rectangular Camtray - Low profile 3753 Group I | Rectangular Camtray - Low profile - 37 x 53 cm Group I | 12 | 38.06 EUR |
| 23 | | Rectangular Camtray - Low profile 2025 Group I | Rectangular Camtray - Low profile - 53 x 65 cm Group I | 6 | 71.76 EUR |
| 24 | | Trapezoid Camtray 1418TR Group I | Trapezoid Camtray - 35,5 x 45,7 cm Group I | 12 | 30.14 EUR |
| 25 | | Trapezoid Camtray 1422TR Group I | Trapezoid Camtray - 35,5 x 56 cm Group I | 12 | 32.88 EUR |
| 26 | | Trapezoid Camtray 1520TR Group I | Trapezoid Camtray - 37 x 49,5 cm Group I | 12 | 35.09 EUR |
| 27 | | Round Camtray - High profile 900 Group I | Round Camtray - High profile - 23 cm Ø Group I | 12 | 17.62 EUR |
| 28 | | Round Camtray - High profile 1000 Group I | Round Camtray - High profile - 25,5 cm Ø Group I | 12 | 19.44 EUR |
| 29 | | Round Camtray - High profile 1100 Group I | Round Camtray - High profile - 28 cm Ø Group I | 12 | 19.44 EUR |
| 30 | | Round Camtray - High profile 1200 Group I | Round Camtray - High profile - 30,5 cm Ø Group I | 12 | 21.55 EUR |
| 31 | | Round Camtray - High profile 1300 Group I | Round Camtray - High profile - 33 cm Ø Group I | 12 | 23.66 EUR |
| 32 | | Round Camtray - High profile 1400 Group I | Round Camtray - High profile - 35,5 cm Ø Group I | 12 | 24.14 EUR |
| 33 | | Round Camtray - High profile 1600 Group I | Round Camtray - High profile - 40,5 cm Ø Group I | 12 | 30.34 EUR |
| 34 | | Round Camtray - High profile 1550 Group I | Round Camtray - High profile - 40,5 cm Ø Group I | 12 | 31.06 EUR |
| 35 | | Round Camtray - Low profile 1950 Group I | Round Camtray - Low profile - 49,5 cm Ø Group I | 12 | 41.81 EUR |
| 36 | | Oval Camtray - Low profile 2500 Group I | Oval Camtray - Low profile - 49 x 61 cm Group I | 6 | 57.41 EUR |
| 37 | | Oval Camtray - Low profile 2700 Group I | Oval Camtray - Low profile - 56 x 68,5 cm Group I | 6 | 66.86 EUR |