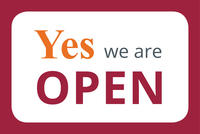 Dear customers and friends,
We are currently experiencing an unprecedented situation around the world, where day by day we try to solve the most immediate problems. The needs are many and we require the help of all: people, companies, administration, and society in general. We must fight together and each, within our means, to defeat and control the pandemic.
DBMARK has made the decision to remain open and we have taken all necessary precautions to ensure the safety of our employees and customers, at this is, and will continue to be our number one priority.
95% of our staff are working remotely from home and the essential personal in our warehouse does so under the most protective measures.
Despite the forced closure by Coronavirus (COVID-19) public health crisis, much of our products are necessary in Hospital and Nursing home. Therefore, our company will remain open while the situation can be.
We want to inform you that for the Alarm State, DBMARK offers the following facilities:
We offer you the option of direct deliveries to final destinations at no additional cost. This way, even if you are closed, we can help you make deliveries directly to your customers.
Delivery during the Alarm State will carriage paid for all orders in Peninsula (check it for islands). By this way, we tried to speed up our delivery times, which are currently fundamental.
Additionally, and exceptionally, we will not charge any fee for opening boxes.
We hope that these measures we offer you helped and facilitated work for days so exceptional that we must overcome together.
#WeShallOvercome and #Everything'llBeFine if we stick together and collaborate, to the best of our ability, to get it as soon as possible.
Do not hesitate to get in touch if you would like any further information and send us your needs, together we will seek the solution.
Look after yourself and your loved ones.