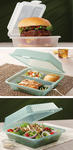 Eco-Takeouts reusable containers are an economical and suitable food transport solution.
Eco-friendly and reusable containers - 100% free BPA.
Unbreakable crockery with a wide range to choose the most suitable model to suit the food it contains.
Avoid leakage and preserve food temperature of some dishes prepared in advance, to facilitate service operation.
Dishwasher safe.
Microwave safe.
Stackable. It is stored very easily taking up very little space.
It can be screen-printed and customized.
| # | | Code | Description | U/E | Unit Price |
| --- | --- | --- | --- | --- | --- |
| 0 | | EC-10-1-CL | Single Entrée w/lid - Reusable - 23 x 23 x 8.9 cm | 12 | 16.42 EUR |
| 1 | | Single Entrée Food Container EC-10-1-JA | Single Entrée w/lid - Reusable - 23 x 23 x 8.9 cm | 12 | 16.42 EUR |
| 2 | | EC-11-1-CL | Half Size Food Container w/lid - Reusable - 23 x 16.5 x 6.4 cm | 12 | 13.05 EUR |
| 3 | | EC-11-1-JA | Half Size Food Container w/lid - Reusable - 23 x 16.5 x 6.4 cm | 12 | 13.05 EUR |
| 4 | | EC-13-1-CL | Soup container - Reusable - 10.8 x 10.8 x 9.5 cm - 473 ml | 12 | 10.18 EUR |
| 5 | | Soup Containers EC-13-1-JA | Soup container - Reusable - 10.8 x 10.8 x 9.5 cm - 473 ml | 12 | 10.18 EUR |
| 6 | | EC-10-1-BK | Single Entrée w/lid - Reusable - 23 x 23 x 8.9 cm | 12 | 16.42 EUR |
| 7 | | EC-08-1-CL | Single Entrée w/lid - Reusable - 12,7 x 12,7 x 8,3 cm | 24 | 5.58 EUR |
| 8 | | EC-09-1-CL | 3-Compartmant Food Container - Reusable - 23 x 23 x 8.9 cm | 12 | 16.42 EUR |
| 9 | | EC-09-1-JA | 3-Compartmant Food Container - Reusable - 23 x 23 x 8.9 cm | 12 | 16.42 EUR |
| 10 | | EC-09-1-BK | 3-Compartmant Food Container - Reusable - 23 x 23 x 8.9 cm | 12 | 0.00 EUR |
| 11 | | EC-12-1-CL | 3-Compartmant Food Container with lid - Reusable - 23 x 23 x 7 cm | 12 | 14.66 EUR |
| 12 | | EC-12-1-JA | | 12 | 14.66 EUR |
| 13 | | EC-16-JA | 3-Compartmant Food Container w/lid - Reusable - 22.9 x 22.9 x 8.9 cm | 12 | 16.42 EUR |
| 14 | | EC-17-JA | Flat Top Single Entrée Food Container w/lid - Reusable - 22,9 x 22,9 x 8,9 cm | 12 | 16.42 EUR |
| 15 | | EC-18-JA | Flat Top Half Size Food Container w/lid - Reusable - 22.9 x 16.5 x 5.1 cm | 12 | 13.05 EUR |
| 16 | | EC-08-1-JA | Single Entrée w/lid - Reusable - 12.7 x 12.7 x 8.3 cm | 12 | 5.58 EUR |
| 17 | | EC-20-JA | Sauce cup with hinged lid - Reusable - 8.4 x 8,4 x 7.9 cm - 200 ml. | 24 | 4.87 EUR |
| 18 | | EC-20-CL | Sauce cup with hinged lid - Reusable - 8.4 x 8,4 x 7.9 cm - 200 ml. | 24 | 4.87 EUR |
| 19 | | EC-21-CL | Sauce cup with hinged lid - Reusable - 8.4 x 8.4 x 7.9 cm - 414 ml. | 24 | 7.07 EUR |
| 20 | | EC-21-JA | Gobelet avec couvercle à charnière - 10,6 x 10,6 x 9,9 cm - 414 ml | 24 | 7.07 EUR |
| 21 | | EC-25-1-CL | Slice pizza container - Reusable - 26.7 x 21 x 2 cm | 24 | 6.46 EUR |
| 22 | | EC-25-1-JA | Slice pizza container - Reusable - 26.7 x 21 x 2 cm | 24 | 6.46 EUR |
| 23 | | EC-11-1-BK | Half Size Food Container w/lid - Reusable - 23 x 16.5 x 6.4 cm | 12 | 13.05 EUR |
| 24 | | EC-15-2-CL | 2-Compartmant Food Container w/lid - Reusable - 25.4 x 20.3 x 7.6 cm | 12 | 12.94 EUR |
| 25 | | EC-15-2-JA | 2-Compartmant Food Container w/lid - Reusable - 25.4 x 20.3 x 7.6 cm | 12 | 12.94 EUR |
| 26 | | EC-19-JA | Half Size Food Container w/lid - Reusable - 20.3 x 14 x 7 cm | 12 | 11.46 EUR |
| 27 | | EC-19-CL | Half Size Food Container w/lid - Reusable - 20.3 x 14 x 7 cm | 12 | 11.46 EUR |
| 28 | | EC-23-1-BK | Soup container - Reusable - 11 x 11 x 6 cm - 355 ml | 12 | 6.00 EUR |
| 29 | | EC-23-1-CL | Soup container - Reusable - 11 x 11 x 6 cm - 355 ml | 12 | 6.00 EUR |
| 30 | | EC-24-1-CL | Soup container - Reusable - 11 x 11 x 7.3 cm - 473 ml | 12 | 6.86 EUR |
| 31 | | EC-23-1-JA | Soup container - Reusable - 11 x 11 x 6 cm - 355 ml | 12 | 6.00 EUR |
| 32 | | EC-24-1-JA | Soup container - Reusable - 11 x 11 x 7.3 cm - 473 ml | 12 | 6.86 EUR |
| 33 | | EC-07-1-CL | Soup container - 10.8 x 10.8 x 7 cm - 355 ml | 12 | 9.49 EUR |
| 34 | | EC-07-1-JA | Soup container - 10.8 x 10.8 x 7 cm - 355 ml | 12 | 9.49 EUR |